40 Years of Experience & Thousands Of Happy Customers.
LET'S SEE WHAT THEY HAVE TO SAY!
"Found Duane through the web, he came over the same day I called to give me a quote, spent almost an hour explaining every aspect of what our roof needed, offered to come back again later if my husband had any questions, and (unlike everybody else that showed up) took the time to prepare a detailed quote that arrived the next day. Everybody else just wrote up a quick slip with a number on it – almost no explanation, as if to say, "Just trust me…" When we followed up with Duane about his quote he took the time to explain again and was clearly passionate about the work he does and the materials he works with. Great choice. "
"Duane arrived on time and was extremely prepared to discuss my concerns, and to provide me with some solutions. Duane had brought me some color samples and proceeded to present me with a complete roofing system solution, which, I thought was awesome. He was extremely knowledgeable on all the latest products that were available. and presented me with a solution that far exceeded my expectations. We were able to agree on a very fair price, and later that day, I was provided with very detailed proposal for me to review."
"We had a leak on our roof. So we called Duane. He came to our house in the same afternoon as we called him. After he inspected the roof, we asked him if we need to change the whole roof. He was being very honest and said there is no need to do it. The problem was with the vent pipe. We were very impressed by his honesty and professionalism. We will definitely use him again if we need any other related work done in the house."
Testimonials are the perfect way to show you the kind of work we provide. We have thousands of reviews from our satisfied customers to give you the reassurance you need while choosing a reputable roofing contractor!
"Highly competent, on time and did exactly what he said he would. He put on a new roof on my large garage. I would give him and A plus."
"Duane did a great job with the estimate helping us decide what products to use and the extent of the job. They completed the entire job in one day. They were polite, neat and thorough. They obtained the required permits and dumpster, tarped the ground below the job and cleaned up all the debris. Before they left they went over the property and driveway with a metal detector to find any loose nails or items that might harm people or car tires."
"Ripped off existing roof, put new plywood down where needed, replaced entire front roof, replaced rain gutters and put gutter guards on them. The workers were very polite, efficient, cleaned up all of the mess, as promised."
"They arrived on time, performed all services as expected and cleaned up very well. I've had no issues with the roof or skylights since the work was done."
"Duane was great to work with. He came out and did a estimate. The next week he was out with his crew and put down a second layer of roofing. Work was done quickly and efficiently, he was done in one day. As far as I can see the roof looks good. He also cleaned our gutters."
"Excellent service. Mr. Marnardi went out of his way to accommodate my schedule, which is hectic and crazy. He made sure to explain fully what was going to happen. Work was completed on time and his crew were professional and clean. Highly recommend his business."
" I contacted the contractor and we met at my home where he provided me with a full presentation of what he intended to do on the roof, including the specifics of the materials to be used, warranty that would be provided, and approximate time for completion of the work. He also provided me with a detailed quote/contract outlining the work to be performed and also a schematic of the roof itself and where various materials would be placed. the work crew arrived on time and completed the job exactly as specified. the workmanship was excellent and when the job was completed, they cleaned up the entire property leaving it as they found it. The owner, Duane Mainardi, takes pride in the work of his company and strives to make sure that the home owner is happy upon completion of the job. I might add that I got 3 quotes from 3 contractors and he was well within the range of the other two. I would strongly recommend this company if you are considering roof replacement on your home."
" Duane and his team did an incredible job. They showed up on time and did an amazing job replacing my roof. Duane kept in touch every step of the way. He is incredibly knowledgeable and takes the time to explain the process and pricing which made me feel comfortable. Numerous neighbors have used Duane and every one I have spoken with raves about him."
Duane was extremely responsive from day 1. We had found him on Angie's List and submitted a request on his website for him to contact us to provide an estimate. That same day he called and we scheduled an appointment for the next day. Duane was not a typical sales guy – he was not at all pushy he told us we could probably wait another year or two if we really wanted to prior to replacing the roof. Duane gave us a ton of references and each of the names and addresses on the list had the roof color so we were able to drive around the neighborhood looking at color choices. Duane was available to do the job pretty quickly, we actually pushed it back a couple of weeks based on our schedules. Duane's guys showed up right on time at 7:30 like Duane had told us and they got to work. They covered up the deck, moved the furniture out there etc. in preparation. Duane came over a few hours later. Once the shingles were torn off – it became evident that the plywood also was going to need to be replaced. Duane had my husband go up on a ladder to see for himself. This turned a 1 day job into 2 days. The day we were scheduled to do the roof was a Friday. At the end of the day, the roofers cleaned everything up and put everything away. And sure enough first thing Saturday morning they were back to finish everything up. It ended up taking them 2 full days to complete the job. The only extra cost that Duane charged us for was the plywood. We are thrilled with how the roof looks. Thanks Duane!!
Duane presented on time, and spent about 90 minutes with me on the initial meeting, carefully explaining each aspect of what the job may include. I received an estimate via email within one day. Of the three estimates we obtained, Duane offered the highest one, but was only slightly higher than the other ones. He most impressed us with his sincerity and orientation to detail with the job. He followed our schedule as we requested, and the work was done promptly and as promised. He presented on site to review the work that was being done as needed. When ever a question came up, Duane was either reachable by phone immediately, or he replied shortly thereafter. There were also occasions when he came to the house to address our own questions. His responsiveness could not have been more prompt.
"We had Duane Mainardi Builders tear off an existing roof and install a new GAF roof system. Duane's team was very efficient and neat. They came in on time every day and stayed late, even though it was about 100 degrees, to get the job done in a few days. All of the old shingles were cleaned up as well as the nails. The new system looks fantastic and has an expected life of 50 years."
"I would highly recommend this company. They were prompt, knowledgeable, professional, and skilled. If you have or think you have an insurance claim, you need to contact this company."
"Duane was the best. He looked at the job on a Tuesday and work was completed by that Saturday. He was on-time, gave a fair estimate and told me what they may find once they got the roof off. He showed me the problem areas, told me what extra work he was going to have to do, but assured me the price would be more than reasonable, which it was. Cleaned up well and told me he would have someone out Monday to replace the gutter and downspout, which they did. An all round great experience. I would without a doubt hire him again for any future jobs."
"I called Duane Mainardi Roofing for a roofing issue, not only were they extremely professional, but they responded immediately (same day). They treated me like I was their first priority. I am very grateful for there work and recommend using them for any project. THANK YOU DUANE MAINARDI, IT MEANT A LOT TO ME!"
"I called Duane after a tree fell into my house. He came out that day to patch it up and worked with the insurance adjuster to ensure they paid to get everything back to the normal. He was extremely professional and his crew did an excellent job on my roof."
"Spoke with several contractors and working with Mainardi Builders just made the most sense. He had more experience
and pointed out issues others failed to identify. They replaced both the roof of my house and the shed with the Timberline HD shingles and they both look very nice. We have a larger roof, so they had to return the next morning to finish the shed. The crew was professional and they cleaned up at the end of the first day even though they were returning the next morning."
"After a wind storm, a large piece of metal fascia came off our house. I saw all the great reviews Duane received, so I called right away. It was about 7pm on a Wednesday. He had me text him a couple photos of the damage, then in a few minutes I had a fair quote, so I gave him the green light. The next day, I came home from work, and the job was done. Awesome!"
"He installed a replacement roof. I wanted new tiles, a few other things to prevent any leaks [which I didn't have], as well as a price. Duane, [the owner], did a roof look relatively quickly after hearing exactly what was wanted [including his opinion as to other stuff necessary.] I had a good feeling about him, his co as well as their Angies List ratings and reviews. His quote responded to the minimum needs which were expressed and was a no-nonsense straight quote. The project went well. My understanding was that his crew could complete the job in one day. Not only did Duane live up to what he said he would get done, he even did a little more [no extra cost to me] and his crew was good. They even removed any debris and made sure no mess was left. After it all, the ease of communications with his office was much appreciated [thanks Cassie]. In addition, the entire process took less than 2 weeks with the installation of a new roof, 3 skylights and an exhaust fan taking less than a day [beating his promise] with the crew of a min of four [there were more people at times.] It was actually a clean experience based on my past experiences with contractors and I would definitely use his co again."
"He and his roofing team were extremely courteous and very professional!!! It was obvious to me that they took great pride in the work they did with multiple quality checks. Preparation to ensure my new siding and grounds were properly protected and covered to minimize the risk of debris left behind. In the process of repairing the roof where my addition meets the house, they stopped to show me where they are certain the leak occurred, how it happened and the step flashing method they used to ensure the issue was corrected. The execution exceeded my expectations from my previous experience some 25 years earlier from another roofer I used. Duane was either on site or would call to ensure my complete satisfaction. He also followed up with me a week later to ensure (and of course after a lot of rain).I have used several contractors for various work over many years and both I and my wife were extremely pleased with the outcome and especially the service! We would unconditionally use him again. Roof looks great and left the grounds in excellent shape!!!! I highly recommend and have referred them to some friends!!"
After several visits from others on GAF's Master Elite Roofing Contractors website listing, I chose Duane Mainardi Builders. I chose Duane because he found the time to come to see me personally, sit down with me at my kitchen table and explain what products were available from GAF, what were the best options for me and answer any questions I had regarding the job. Other firms sent either a foreman, sales rep or "team member" which provided some information on what the quote included (your basic sales pitch) but not much more. All reputable firms and I'm sure doing good work, but here was Duane, the guy who's name is on the business, finding time to be at my kitchen table explaining what my roofing problems were, what solutions he could provide and recommending, based on his and his family's many years of experience in the business, would be the best choices for my family's home. And all this six+ months prior to the job starting in the Spring of this year.

When the day came he was on-site with his crew making me feel comfortable that the job would be done right the first time. From tearing off of the old double shingled roof, replacing the entire plywood roof right through clean up, it was a job well done. The roof looks great and only when I was satisfied did I send him the check. By the way…his was not the highest price quote, nor was it the lowest. But, the "entire package" was exactly what I was looking for…a fair and competitive price, from a professional and knowledgeable builder who was there from the beginning…and who I'll trust with future projects on my home.

It was a pleasure working with you and your team, Duane.
"Dumpster arrived at 7:00am as well as contractor and 5 workers. Entire house was covered with tarps to collect old shingles and to protect shrubbery. They removed old shingles and then removed the tarps and discarded the debris in the dumpster and proceeded to cover the bare wood with tarpaper and then applied the new shingles. The skylights were removed and new ones installed. When roof was finished the crew went over the shrubbery and lawn to be sure all was clean and especially picked up any stray nails with a rolling magnet gadget. My yard looked better than before they arrived. They finished in one day in very cold weather and the dumpster was removed the next morning. I am thrilled with their workmanship!"
"Duane and his company did a fantastic job with replacing our roof and our gutters. I called on a Friday to set the appointment, and his team was out there on Monday to do the work! Their work looks beautiful and my lawn was cleaned up perfectly. I'd definitely recommend using Duane for a roof replacement or gutter work.
Thank you!"
"Roof looks beautiful. Duane is very professional and a pleasure to deal with. His crew was also excellent."
"Replaced damaged roof – very courteous, timely, informative and from I can tell they do great work. Great folks!"
Duane was very responsive from the initial meeting until completion of the job. He arrived at the designated time to assess my roof and explained the process of replacing the roof and proper ventilation very thoroughly. He went over various options, upgrades, and the warranty. He left samples of the products he was going to install. His office provided me a detailed estimate and statement of work the same day. I was very impressed.

On the day of the installation, Duane's crew arrived as stated early in the morning. They prepped the house by draping large tarps from the roof to the ground to slide the debris down and to protect the landscape. Due to the magnitude of the plywood replacement, the job took almost two days. The crew completed all of the main roof work on day one and the garage and smaller roofs on the second day. They cleaned up all of day ones debris and swept the ground for nails with a magnetic roller so we could park in the drive way over night. At the end of day two, everything was restored back to normal around the house as if they were never there.

The new roof has made the house more structurally sound and it looks great!
Duane Mainardi and his crew did a great job replacing our roof, removing a chimney, and siding 2 sides of our house – and we would happily use him again and definitely would recommend him to others. He cared about the quality of his work, which is not all that common today. We found the outstanding comments posted by others about Duane Mainardi Builders on the roofing and siding sections to be very accurate and can only echo what others have said. The entire process went very well – we found Duane to be easy to work with, honest, professional. He helped us make decisions that we felt were in our best interest – then did the work in an efficient and competent manner with a focus on a quality outcome. Throughout, I felt that Duane worked on our house as if it was his own – I can't say much better than that. In addition, he personally went way above and beyond in a number of instances to help us in various ways, including even helping us carry some old rugs out of our attic! I can't say enough positives about Duane Mainardi and his work.
Mr. Mainardi made a major decision making process easy and stress free. As stated in previous reviews, his approach is that of a true professional. He takes pride in his name and his work and knows that he puts out a quality product. There is no sales pressure, he completes his assessments, provides ou with the facts, answers all questions, and you know deep down that he is being truthful and honest, and then lets you make the decision. His detailed statement of work also helps in outlining everything that will be done in a format that is easy to understand . I requested three estimates all were prompt, all took the time to explain, and all were comparable in price (give or take a few hundred), but I trusted Mainardi
Mr. Mainardi made a major decision making process easy and stress free. As stated in previous reviews, his approach is that of a true professional. He takes pride in his name and his work and knows that he puts out a quality product. There is no sales pressure, he completes his assessments, provides ou with the facts, answers all questions, and you know deep down that he is being truthful and honest, and then lets you make the decision. His detailed statement of work also helps in outlining everything that will be done in a format that is easy to understand . I requested three estimates all were prompt, all took the time to explain, and all were comparable in price (give or take a few hundred), but I trusted Mainardi
Our project was scheduled within a week from signing. Both Duane and Cassandra are extremely professional, responsive and efficient. They successfully completed the project as promised within 2 days! |
"All work was guaranteed. None of my landscaping was damaged by the construction repairs. All debris was removed from the jobsite which looked so clean upon completion of this job it looked like the landscaper had just come by. I am very satisfied with the quality work, cost, and expertise of this contractor, and he was very attentive to extra details. He was not the most inexpensive contractor I interviewed, but he knew the most about structural integrity and design. Because of his expertise, my home actually looks better now than before ice and snow damaged it! Give him 5 stars. You really get your money's worth!"
"Overall, Duane was excellent to work with. He was extremely knowledgeable about his field and gave some great advice. I felt like he had our best interests at hand and did an excellent job of walking us through the options. I got 4 contractors to come out and give me a quote and while Duane wasn't the cheapest he was competitive. The biggest take away from our initial meeting was Duane's professionalism and how much pride he takes in his work.

His team arrived early in the morning and quickly got to work. I am extremely happy with the finished product which was completed in one day. Additionally, I was amazed at how clean his team left the area when they were finished. I would absolutely recommend using Duane to anyone and will use him again myself if the need arises."
It went well. My understanding was that his crew could complete the job in one day. Not only did Duane live up to what he said he would get done, he even did a little more [no extra cost to me] and his crew was good. They even removed any debris and made sure no mess was left. After it all, the ease of communications with his office was much appreciated [thanks Cassie]. In addition, the entire process took less than 2 weeks with the installation of a new roof, 3 skylights and an exhaust fan taking less than a day [beating his promise] with the crew of a min of four [there were more people at times.] It was actually a clean experience based on my past experiences with contracters and I would definitely use his co again
"Duane was one of the best contractors I have dealt with. First, he was well versed on the latest updates, taking classes on installation of each brand. This was important to me because I read on Angie's List that warranties were not honored by installers who put an extra nail in the shingles. I thought I had done allot of research prior to meeting with Duane but he really gave my husband and me an education. Second, he provided me with addresses of jobs. I learned how colors looked and found that they did not necessarily look like the single shingles because of the light. The skylights were chosen for their insulation properties as well as break proof because of high trees. Third, I probably called or emailed Duane over 10 times, he usually answered, if not he called later that day. He even told me that if he did not call me back the same day call again in case he did not get the message. Forth, the prep and clean-up was amazing. The crew moved deck furniture. covered plants and were doing clean up at the same time as the old roof was coming down as well as going up. Fifth, I am not sure I want Duane to know this, but I had estimates by two other companies after the fact, who were sour grapes that they did not get the job. They each gave me estimates of several thousands more if they were to do the job, and they thought I would be disappointed I had not gone with them!"
"Duane's crew took off two layers of roof, fixed rotted areas with the beadboard we had saved to do the repair work (instead of jury rigging some plywood, which would have been faster and made them more money, I'm sure), cleaned up after themselves and left the premises pretty much the way they found them. Price was highly competitive and I would recommend Duane Mainardi Builders to anyone."
"While our existing roof was not leaking, it was 24 years old and showed signs that it was in need of replacement. We were first referred to Duane Mainardi by a neighbor in 2009. At that time, Mr. Mainardi came out, performed an inspection, and gave an estimate. We obtained several other estimates and his was very competitive. But because of other matters, we decided not to proceed with replacement at time. This fall we decided to proceed with roof replacement and, because of our prior dealings in 2009, contacted Duane Mainardi. He returned to the house, performed another inspection, and issued another estimate. The new estimate was slightly higher than the 2009 estimate but that was to be expected. He provided us with samples from different manufacturers and of different styles and colors and was very patient as we made our final selection, answering several questions and providing additional information. When we made the final decision, he and his crew started work in two days. The work went as he had described and we are happy with the result."
If you are in need of a new roof, stop right here. I did the homework for you! I contacted 4 local roofers with high ratings (thru Angie's List) 3 of the 4 came to my house, Mainardi Builders being one of them. Duane of Mainardi Builders was the most thorough and seemed to be the most knowledgeable. He explained the entire installation in full detail. He spent time with my wife and I explaining the GAF shingles and even helped us pick out the color. His quote included a full Statement of Work with a cost breakdown.

So, I was very comfortable with choosing Mainardi Builders. I seemed like an easy decision.

I waited for a few rain storms before I wrote on Angie's List. And after a few storms, NOT A DROP of water! I'm more than happy with my decision. Duane Mainardi called after the installation, just to make sure my wife and I were happy with the roof.

Duane Mainardi even met with insurance company to help with my claim.

I was very anxious and apprehensive about a new roof and finding the right contractor. Mainardi Builders went beyond what I expected. Like I said, I did the homework for you.

At least give Mainardi Builders a call. You will be happy you did.
Some More Happy Customers…
"We are in the process of selling our home. The buyers contracted for a home inspection. The report indicated that we had 1 missing shingle and one broken shingle. The report also suggested repair to the 4 vent lashings. I called and left a message for the builder explaining. Within an hour I received a return call from Duane Mainardi. Duane asked me to email him a copy of the inspection report describing what was needed and promised to get back to me with an estimate. Within 30 minutes I received my estimate! In addition, he his crew to come out early morning the very next day! The crew arrived early and started the repair. Despite the fact that my roof is 18 years old, the owner was able to replace the shingles so closely it looks like an exact match. The repairs were completed that morning. While the inspection report was specific about the 2 shingles needing to be replaced, the crew also found 2 discolored shingles and replaced that on their own. The owner personally stopped by to meet and talk to us and provided us with a receipt to provide the buyers. I was very impressed with this company. They did great work, came early, were priced reasonably and took personal care to show me they cared about their customers. I have already referred them to others as I would highly recommend them."
"Our roof was damaged during one of the "mini" storms after Hurricane Sandy, missing shingles, fascia. We called on a Sunday, Duane Mainardi called the next day, our roof was repaired by Wednesday – would have been done sooner but had to wait until the weather cleared. Workers showed up on time, cleaned up all materials afterwards. Excellent service!"
"We were in need of a new roof and gutters. The job went very well. The perimeter of the house was clean at completion. All was completed in 1.5 days."
"He removed defective plywood and completely roofed the property. Excellent work and very professional."
"They arrived on time, performed all services as expected and cleaned up very well. I've had no issues with the roof or skylights since the work was done."
"We were so pleased with Duane and his crew, we hired them twice. They did a roof for us in August 2011, and did another in July 2012. On both projects, Mainardi quickly responded and scheduled an appt. to look at our roof (and the other carpentry, chimney and gutter repairs we needed). WIthin a few days, we received an accurate written estimate. Communication was consistent and frequent – we were told when to expect the shingles and dumpster, and when our job would start. The workers were mindful of our landscaping, and there was a foreman who could speak with me if Duane had to leave our site. Mainardi Builders went above and beyond our project specs and fixed other misc. things for us – without killing our bill. He seems to have a permanent, good roofing crew and peripheral tradesman. I think his workers stay on, because I recognized many of them from our Aug. 2011 project. Both of our jobs were completely fast – (done in one day), spot-on and they left my yard immaculate – which was very important to us because we have a dog who walks freely. We had some tricky things on our (very) steep roof and multiple (old) skylights that had to be replaced. No issues at all. We would highly recommend Duane."
"Our roof was over 30 years old and looked bad. We called 5 or 6 roofers and Duane was the first to respond and come give a quote over the Memorial Day weekend. His quote turned out to be the most competitive right off the bat, and he left us with 5 pages of references. He was helpful with questions to ask others that were quoting on the project.
After speaking with 3 of the references, it was an easy decision to go with Duane. It took us a while to get everything in order on our end, and Duane was patient and helpful in answering questions during that time. Once we let Duane know we were ready, he was able to come within a week. He was His crew was on time, and got the work done within a day, and left without a sign they were here (other than the new roof). The bill matched his quote exactly.
Very professional and a pleasure to deal with. I would enthusiastically recommend Duane and his team."
"Provider was very punctual, patient, and thorough. Job was done in one day. Clean up was spotless and overall customer service was impeccable. I look forward to tackling more home improvement jobs with Mr. Mainardi."
"They were very professional. They had the appropriate number of workmen here and they seemed to team very well, and they got the job done really efficiently. We are really satisfied with the quality; it was really high quality."
"I had a roof leak around my attic fan. Duane helped me by looking at my roof through google earth. He gave me a quote right over the phone. His crew came out over the weekend and replaced my attic fan and the surrounding shingles."
"New roof. Great job. Fair price. As a homeowner there is nothing more important then knowing an important job was done right. Glad to have been referred to Duane. Project done exactly as explained. Very pleased."
"I would highly recommend Duane Mainardi Builders for Roofing projects due to their professionalism, responsiveness and quality of work. They have done an excellent job replacing the roof. I would definitely hire them for any future roofing projects!"
" Duane and his crew arrived on time ready to do the job. Everyone was professional and performed their job well. The clean-up was completed and the yard looked spotless. Duane was knowledgeable and ready to answer any questions or concerns you had about the project so that you would feel the roof was done to your satisfaction."
" The group of men came out at 7am to begin my roof. A crane came down the driveway, placed the roofing tiles on the roof, he pulled out of my driveway and a dumpster came down my driveway one minute later. The men worked all day and completed the job. They cleaned up every crumb before leaving. The job was done at 7pm – and you couldn't tell that they had even been there, except for the beautiful new roof. They are going to be coming back to do my siding. Very professional and would highly recommend them."
"Tear off of roof; replace all rotted wood. Installed GAF Timberline Hip & Ridge vent system. Installed new flashings. Repaired chimney and installed cap. |From 7:15am till 4:30 pm Mr. Mainardi and crew were like a well-oiled machine. Obviously everyone took pride in their work and were polite and answered any questions asked by me. After tearing off roof down to wood deck Mr. Mainardi called me to come look at all rotted areas before replacing wood and continuing work. |I understood all facets of the work to be provided from the start; no surprises. Everything spelled out in the contract. Appreciated Mr. Mainardi's professionalism and pride in his trade. Hopefully I will find more contractors with Duane's straightforward work ethics. I have already recommended DMB to two people."
"Duane replaced the roof as well as a skylight. The entire project took one day and we were extremely pleased with the entire construction experience. Unforeseen damage was discovered on an eve which required carpenter services to fix as well as painting. When discovered, Duane immediately pulled the appropriate employee from another job to correct the damage including paint. We give Duane Mainardi the highest recommendation. The overall experience was excellent down to the clean-up process. We have not found a nail on the premises."
"Original roof started to show signs of leaks. Duane, the owner, was very punctual, courteous & professional from my first contact to follow-up of job completion. He made suggestions as to roof color to blend with other units since it is a row of townhouses with a common roof. His suggestions were perfect. He and his crew showed up early on the day promised and completed the job on the same day. They resealed a skylight and re-flashed areas that we had not even discussed during negotiation. I was so very pleased with my entire experience I have recommended him to as many people as I have been able to."
Worked quickly and efficiently. Took great care to protect foundation plantings. Cleaned up completely. I also asked about refurbishing a small deck. He showed me that the deck needed complete replacing. Completely rebuilt the deck, including respacing the spindles to conform to new code requirements.I especially liked the consultation on materials; no up-sell pressure. Apologies for tardy review, Thought I had done this long ago.
"Original roof started to show signs of leaks. Duane, the owner, was very punctual, courteous & professional from my first contact to follow-up of job completion. He made suggestions as to roof color to blend with other units since it is a row of townhouses with a common roof. His suggestions were perfect. He and his crew showed up early on the day promised and completed the job on the same day. They resealed a skylight and re-flashed areas that we had not even discussed during negotiation. I was so very pleased with my entire experience I have recommended him to as many people as I have been able to."
"The crew of 4 (hard working) individuals arrived at 7:30 AM and began draping my house to prevent debris from falling on to the landscaping and flower beds. Mr. Mainardi arrived shortly thereafter with additional supplies. The old roof was removed and approximately 8 sheets of new plywood had to be used to replace the rotten pieces. In all cases, I was asked about the wood before any work was completed. I left before the work was completed but upon my return 2 days later, the roof looked great and the yard was completely cleaned of any old materials that were taken down. I would certainly recommend Duane Mainardi Builders in the future and would not hesitate to used them again should the occasion arise."
"Duane Mainardi Builders were very responsive. They came out right away to give us a quote and even broke it down into two separate projects. When they put on new shingles they saw that there was minor wood damage. They took pictures and showed us before replacing it. They did an excellent job and we plan on using them again in the future."
"My husband and I own a second home in Westville, NJ. This past Fall the home next door erupted into a ball of fire from a gasline explosion. There was nothing left of the home. Thank God, there were no injuries! However, this left our home with a melted roof, siding and windows.
We found Mainardi Builders on Angie's list. After the contract agreements were made, Mr. Mainardi started the job immediately. As a matter-of-fact, he started before I had a chance to get the downpayment to him. This construction company is run professionally.Mr. Mainardi is very time-management oriented. He said the job would be done in three to four days, and it was.
There were no delays. The crew arrived early each day and, Mr. Mainardi stayed in touch with us at all times. We will hire him again."
"I called Duane for a roofing estimate and left a voicemail. He returned my call within minutes and we made arrangements for him to stop by the next day. I was prepared to hear the worst but he was very honest and assured me it was in decent condition and nothing had to be done at this time. I need my siding painted also and he gave me a good recommendation. I appreciated his honesty and integrity and will not hesitate to call him in the future."
"It was obvious from the start that Mr. Mainardi takes great personal pride in his work and in ensuring that his clients are happy with his company. When I first contacted Mr. Mainardi, it was on a Sunday afternoon, and I left a message requesting to make an appointment for an estimate. I did not expect that my call would be returned so promptly on a weekend — but it was! Mr. Mainardi came to my house the next day and spent almost five hours there going over the proposed work to be done, explaining my options, and offering solutions. He brought photo albums showing some of the prior projects on which he had worked so that I could get a better sense of the scope of services that he was qualified to offer. When Mr. Mainardi left that day, I felt as though I had met an ethical contractor who really put his customers first. Mr. Mainardi's decades of experience and his pride in being a third-generation builder was another reason for my decision to hire him, and I was also impressed by the enthusiasm that he had for his profession. I was also happy to find that Mr. Mainardi's company had the appropriate State of NJ contractor's license, and that his company also had current Workers' Comp insurance, according to the State of NJ web site that I found online. Not all of the contractors to whom I had spoken had Workers' Comp insurance in NJ, but this was important to me, so this was a plus for Mr. Mainardi's company. The work to be done in my basement and crawlspace required coordination with my own plumber and an electrician, and Mr. Mainardi made himself available to speak with both of those gentlemen as needed. He also handled communications with an architect who created a drawing showing the re-pitched porch roof and with the local township permit office for the roof and rebuilt stairs. Throughout this process, I felt that Mr. Mainardi willingly extended himself, even driving out to my house several times prior to the start date so that he could answer some of my last-minute questions. During the actual work, Mr. Mainardi kept up excellent communications with me so that I would know exactly what was going on, any problems (e.g., rotted wood) that had arisen, and workable solutions to those problems. I felt that my house was in capable hands, and I'm pleased with how everything turned out. I was (and continue to be) very impressed by the dedication of Mr. Mainardi's team. Everyone has been consistently friendly, helpful, concerned, polite, professional, and extremely hard working! Mr. Mainardi's employees speak very highly of him and of his insistence on using high-quality materials and creating high-quality projects. Next year, I plan on having all of the windows and many of the doors in my old (circa-1880) house replaced. I will be contacting Mr. Mainardi because I have seen first-hand that he returns calls, shows up when expected, keeps in good communications, patiently answers my many questions, and delivers very nice results on projects!"
As a professional buyer when my house was damaged I knew to check all resources to find good competitors to replace my damaged roof. While more than one company was highly responsive and competitive in price Duane took the time to educate me on each product and options that I might want to consider. There was no pressure at all. Duane provided a written detailed proposal which described every aspect and option that I chose including colors, options, price, volume of materials. The quote he provided was not the lowest bid but definitely the best bid and completely credible. Once notified that he was selected he moved quickly and had a team on my roof in one week. The weather was going to get bad overnight so he had a large crew show up and work all day to ensure my roof was completed. The rain held off and the very next morning the new gutters and downspouts were installed. I did weeks of research on materials, brands, ridge vents and other items and Duane was able to provide even more information. The roof is great to look at and we will have many years to enjoy our improved home.
"Highly recommend. Duane , the owner, returned my call immediately and was out promptly for an estimate. Out of the 4 estimates we obtained, Duane was the only one who walked around our attic (where we were experiencing ongoing leaks) & went up on the roof (even had me go up & personally showed me our problem areas & how to fix them). Duane pointed out installation problems in our attic and recommended adding baffles, which are being installed next week. Duane also recommended installing a roof cricket to eliminate the water leaking down the chimney & showing up on our ceilings inside our house. All the other contractors said we didn't need a cricket, but after thorough research and constantly paying every 2 yrs for "patch" jobs, we felt confident that Duane finally had the proper solution. Duane's crew showed up on the day/time promised, quickly got to work and was finished in 1 day. His crew covered our house and property to protect from the tear up, and even put extra drop clothes down on our stone driveway upon my request. They did a super great clean up job. We were and are extremely happy with Duane, his work and his crew. We are recommending them to friends who need a new roof."
"Duane and his employees were professional in every part of the job. When I called him, he gave me a date and time that he would be at our house to review the job. He was there when he said he would be, and he gave me a concise yet detailed explanation of what he was going to do. He suggested certain upgrades, some of which I had already decided I wanted, and explained why he thought they were good choices. When he left he told me there would be a detailed description of the job sent to me including all costs. It was on my email the next and, and in the regular mail the day after that. Everything was clearly spelled out. I called and told him I was ready to go ahead, and the job was scheduled for Wednesday of the following week. It rained Wednesday, Thursday, and Friday. Duane called Wednesday afternoon and said the job would be done on the weekend if that was acceptable. The crew showed up early Saturday morning and the job was finished by Sunday afternoon. They were friendly and professional and the clean-up was very thorough. The roof is beautiful and really enhances the appearance of the house. My wife and I could not be more pleased with the whole experience."
"I called several roofing companies for an estimate for new roof. Duane (owner) returned my call promptly and personally. Despite an impending rain shower, he inspected and measured the roof within a few hours and called again with an estimate. He was informative, professional and pleasant. I was impressed with his attention to detail. He offered options and suggestions. His price was reasonable and comparable. He was never aggressive and respected the fact that I chose to wait for additional estimates before making a decision.
After interviewing several other companies and accumulating additional estimates I ultimately chose Mainardi Builders – with no regrets. Duane and his company delivered exactly as promised. The workers were prompt, polite, and professional. The job was completed within the projected time and the only evidence of the construction was the new roof they left behind. I fully recommend Mainardi Builders with no reservations."
"Once we realized that Friday's rain had caused a leak & saw how the Monday rain made it worse, we knew we had to get someone to repair our roof. As the Monday rains poured, I got on Angie's List & made a list of roofers in our area. Early Monday, I called Duane first, got his voice-mail, left him a message and prepared to call the next name on my list. Before I could call, Duane called me back. He inquired as to what my problem was, I explained–he told me to hang up while he Googled my address so he could view my roof. Once he got my house on Google, he called me back and had me locate were on my roof the leak may have been located. He told me what he thought was the problem and scheduled me for a Thursday visit. A couple of hours later Duane called and asked if it would be OK if he sent his men out first thing on Tuesday. He told me what his men would do, gave me a FIRM price quote, with an explanation that if further work was needed, he would roll any money into the additional work. I accepted, his men showed up on time, inspected the roof, both from the inside & out. They located the leak's source and repaired it. I thought the job was complete & I was very happy & satisfied. Then Duane showed up at my house to inspect the work and to determine if that was enough. He checked the inside roof and the outside–he told me more repairs should be done to insure the leak would not return ( he gave me a 98% assurance). He called me that evening to tell me who he was sending & what time to expect them. Again, his man arrived on time & went to work with the additional repairs. He cleaned up before he left and all looked well.
I expected to be charged extra for the additional work, but Duane was true to his word and the bill was exactly what he quoted me Monday afternoon. This is the 5th house I have owned and I have hired many, many contractors for those homes but, I must admit, only one other has been as good as Duane Mainardi. Duane's promptness in returning my initial call, his handling over the phone of my situation, his use of technology to get an accurate description of my problem, then his explanation of what he could/would do to remedy that problem, AND his firm price for that remedy, were outstanding confidence builders! Then he delivered as promised, earlier than originally scheduled, personally came by to inspect the work & roof, explained why he wanted more repairs to my roof, I was really impressed. The icing on the cake was his honesty and honoring his quoted price. The exterior roof repairs match the rest of my roof and Duane's workers were punctual, professional, polite, and conscientious. Dune's company is an all encompassing construction company–if I need any other home repairs, I have found a reliable, professional, honest, & a very competent company!"
"Another successful pairing from Home Advisor – Duane goes above and beyond what he says he and his employees will do. If only all contractors were as friendly, professional, and courteous as this company."
"Duane was great – he responded quickly, listened to my description of the issue, thoroughly investigated the problem, and carried out the repairs efficiently and effectively. There has been one rainstorm since he repaired my roof, and now there are no leaks! I would recommend his services to others."
"Duane contacted me the day that I put the request into Home Advisor and had ample references for me to contact. Chuck arrived to complete the drywall repairs and caulk leaking windows. Chuck did an exemplary job! He was punctual, professional, knowledgeable, efficient, and tidy. I am extremely pleased with the work done on my home and would definitely recommend him."
"I just recently hired Duane Mainardi Builders to tape and spackle my bathroom that I recently remodeled. I left a message on his answer machine describing the job that I needed done, and within minutes Duane returned my call. Not only did he quote me a price over the phone that I was completely satisfied with, he told me that he would send one of his best guys over to repair the drywall. When the taper (Rick) arrived not only was he on time everyday but he was courteous, friendly and a true professional. He said the job will probably take about two to three days. But he came back one more day to touch up some spots that he wasn''t completely satisfied with. When the job was done the walls actually looked like a sheet of glass. I am 100% satisfied! I strongly recommend Duane Mainardi Builders for any home repairs that you might have. Sincerely, Dan "
Excellent, they provided a comprehensive written estimate outling the details of the job. They provided a timeline for services and scheduled the project around my work. They told me exactly what to expect and followed through with everything. Best of all the cost was lower than expected.
Duane came as soon as I requested the name of someone to do my roof. He was very prepared and did an excellent job in presenting his program to my wife and I. He was very easy to work with and extremely cooperative in getting the job done. the guys that did the work were excellent . They worked long and hard to complete the job and the cleanup was perfect. We have already had some comments on how good the roof looks.
"You look at Duane and you can immediately see a guy who has worked hard all his life to please his customers. I was very impressed as his crew arrived on time and set about making repairs that were needed before starting on the new roof. The men and their equipment were efficient and they exhibited a demeanor that they gained a lot of satisfaction from doing a quality job. Duane even put up bird guards to displace birds that try to set up nests in our roof eaves every Spring. Thank You to Duane and his crew."
I had Duane's company install a new roof and siding, along with new doors on my patio. I couldn't be happier with the process or the results. Duane and his crew are big on getting everything right and they pay close attention to the details. As a homeowner you know these large projects are all about the details so to have a company like DMB that understands that is huge. I will recommend him to my neighbors but just seeing the transformation done to my home will be enough to get them calling for their own remodeling projects.
"Real easy. Good work. No complaints."
"Duane is a great guy, really responsive and reasonably priced!"
"If you have any problems or questions about your roof, call Duane. I found him prompt, reasonable and exceptionally helpful."
"The workers were very polite, efficient, cleaned up all of the mess as promised."
"Duane did a great job with the estimate helping us decide what products to use and the extent of the job. They completed the entire job in one day. They were polite, neat and thorough. They obtained the required permits and dumpster, tarped the ground below the job and cleaned up all the debris. Before they left they went over the property and driveway with a metal detector to find any loose nails or items that might harm people or car tires."
"This guy goes the extra mile! And, he repaired custom features on my home within my insurance check budget. Also, his crew really does clean up after they finish the job!"
"Mr. Mainardi arrived within a few days of my inquiry to walk the job and an estimate was in my hands two days later. Although he was not the low bidder, through our conversations it was clear he understood the challenges of my roof design and what needed to be done to deliver a water tight and maintenance free solution. The end result is spectacular and delivered when promised at the quoted price. Duane puts customer service first and worked hard to meet my high expectations. I am VERY pleased."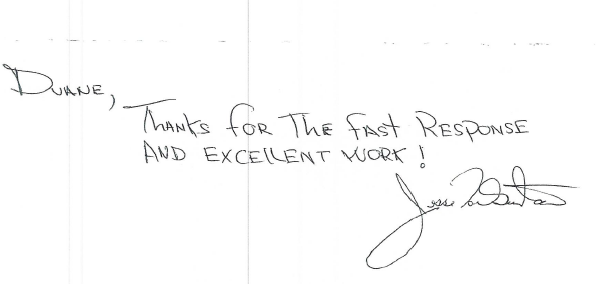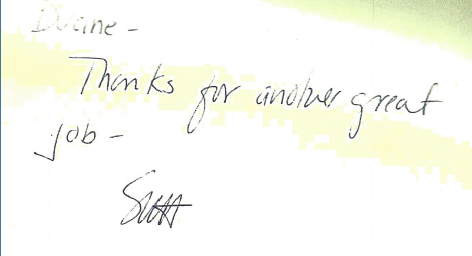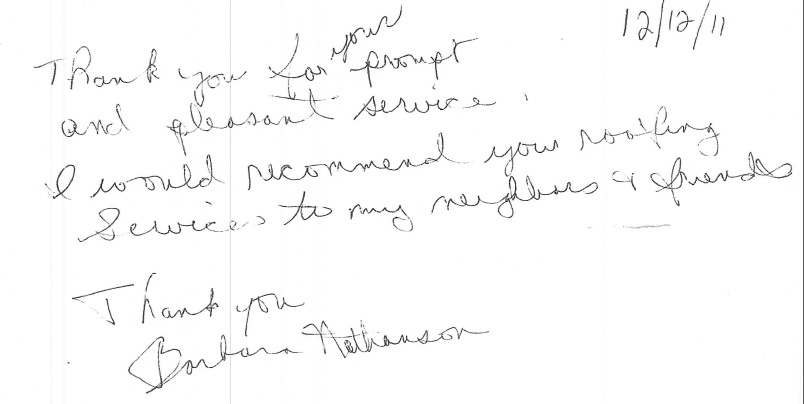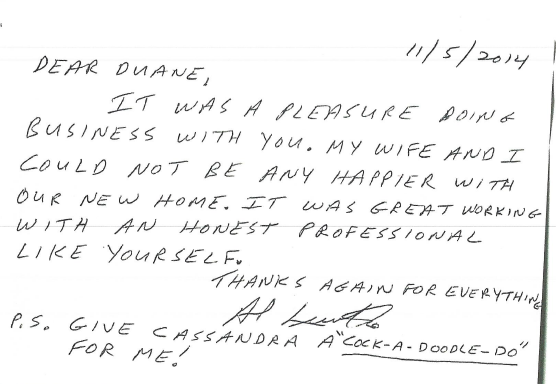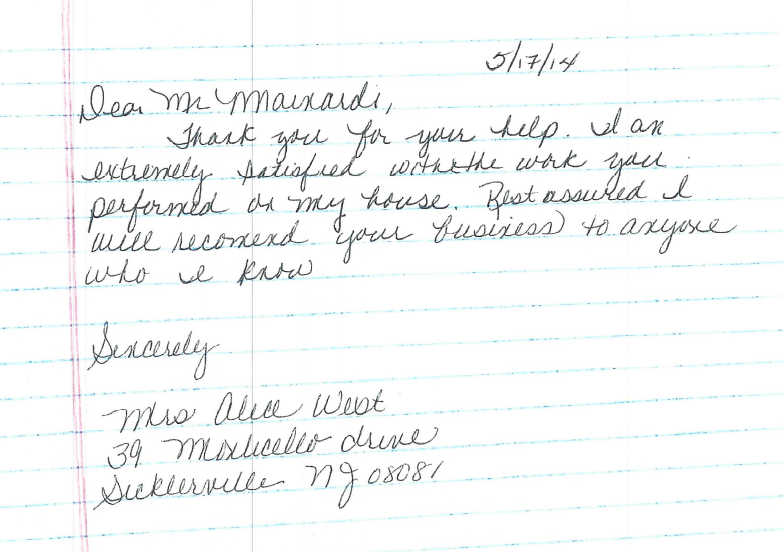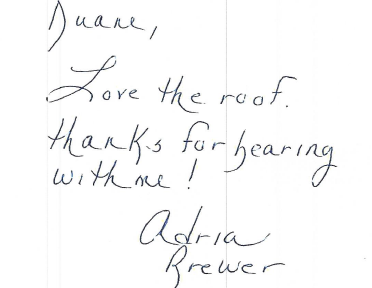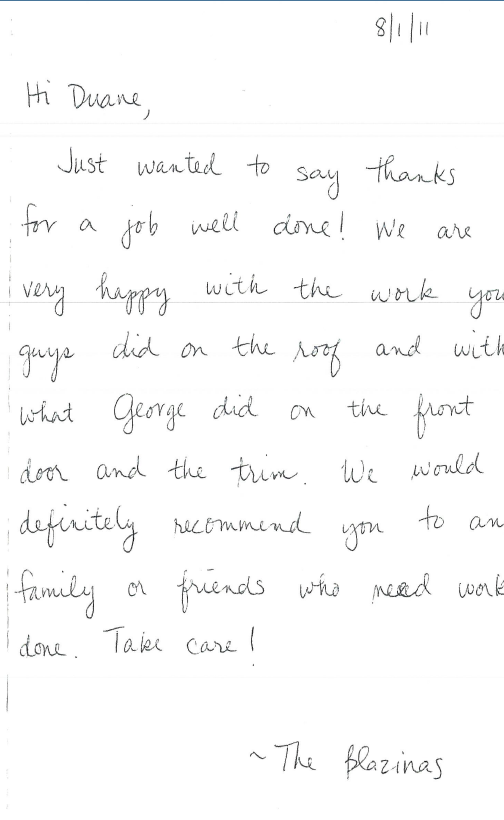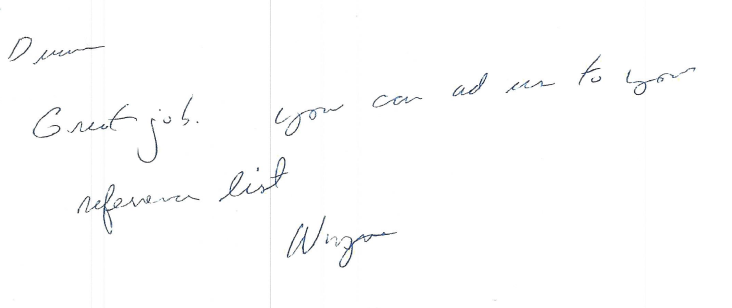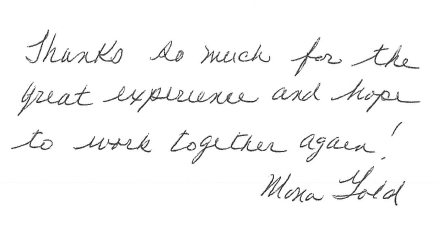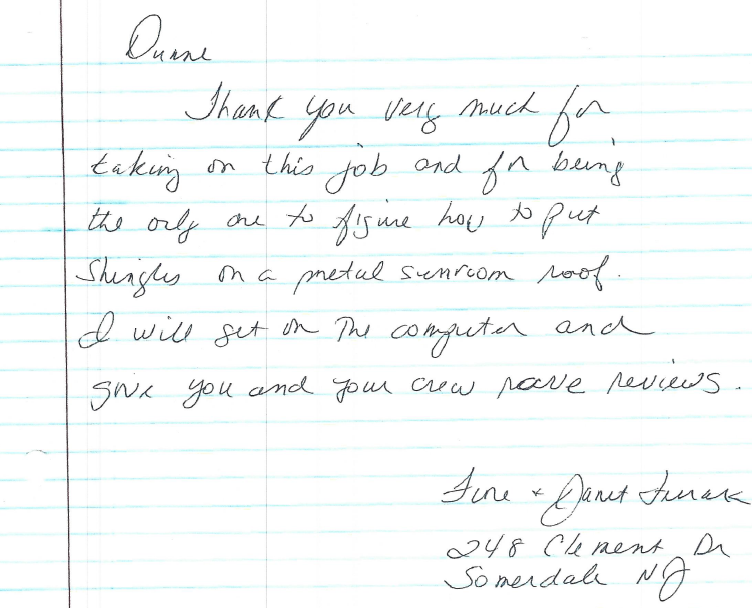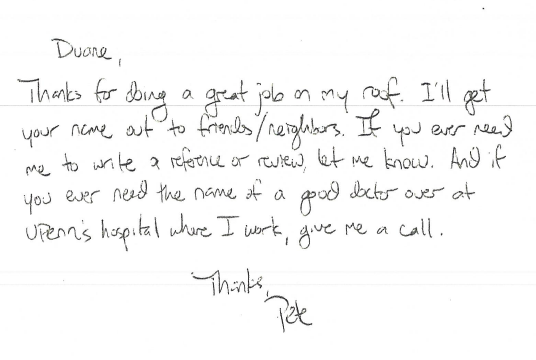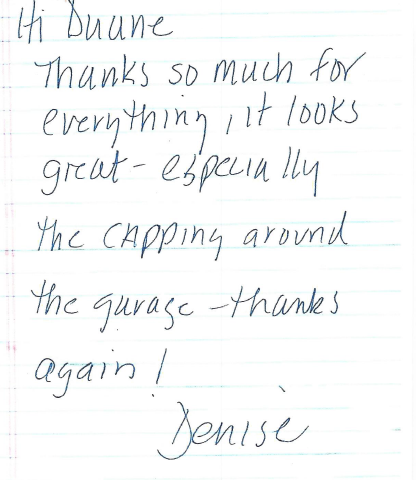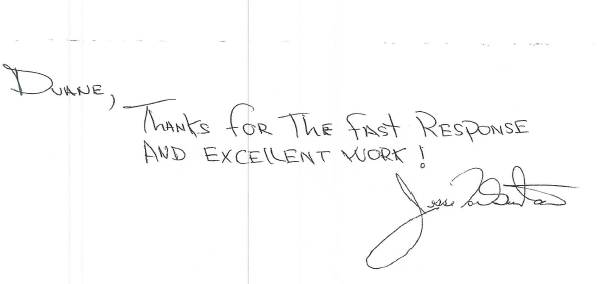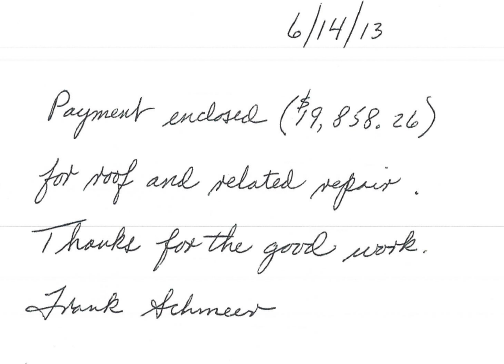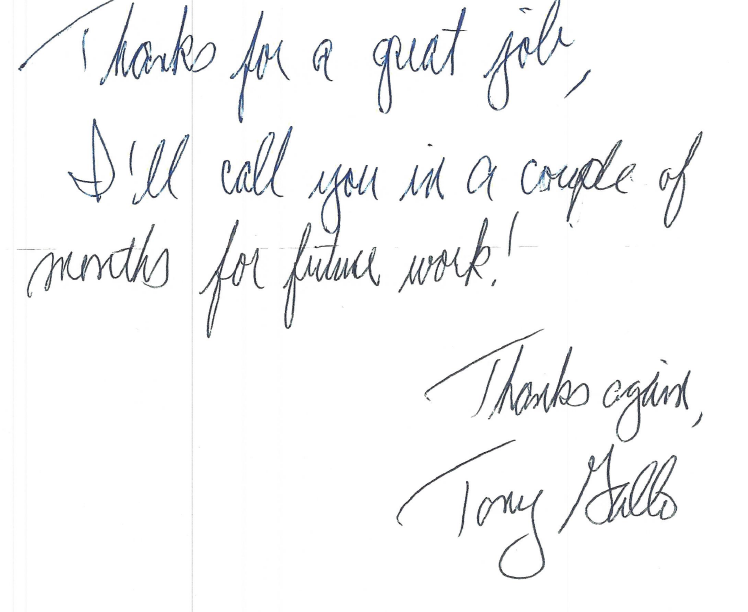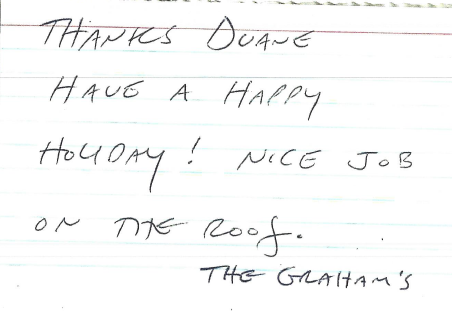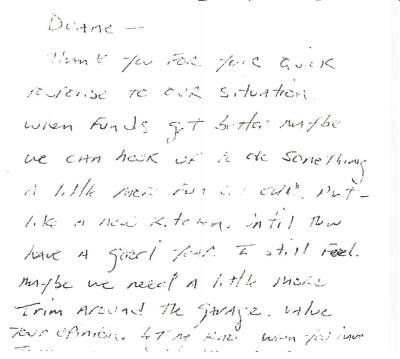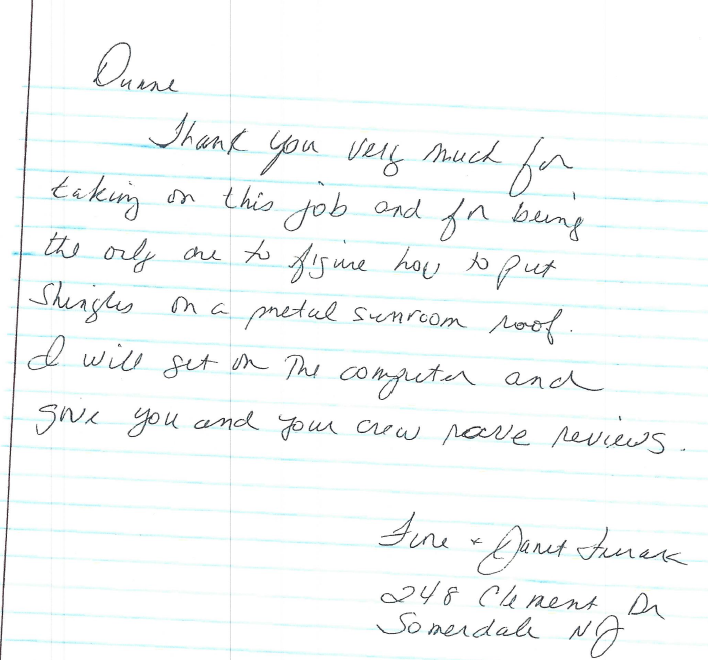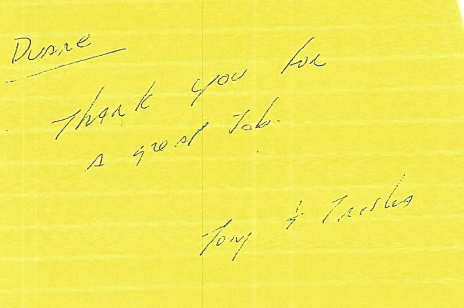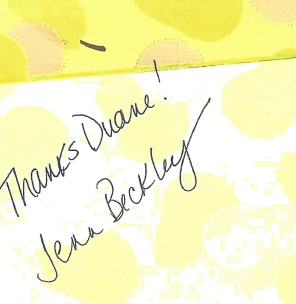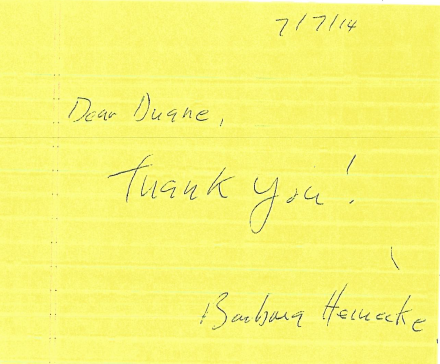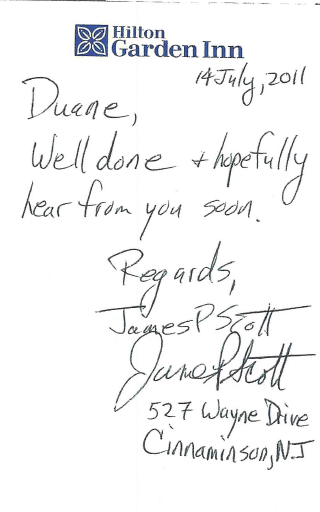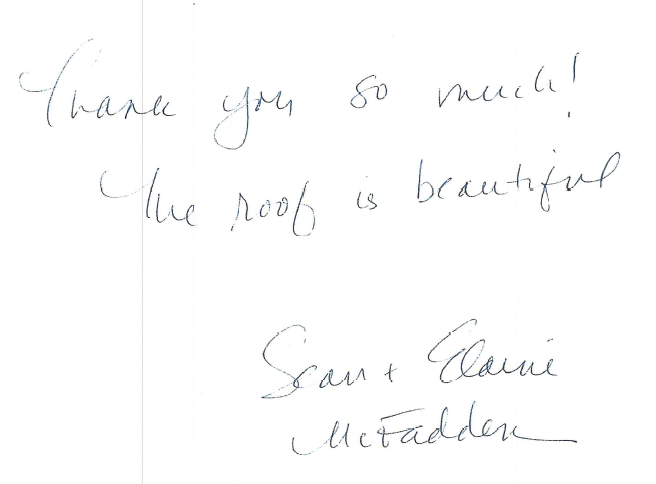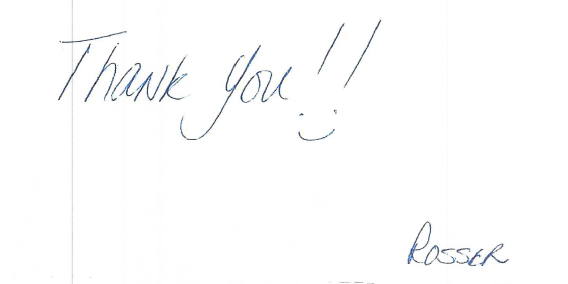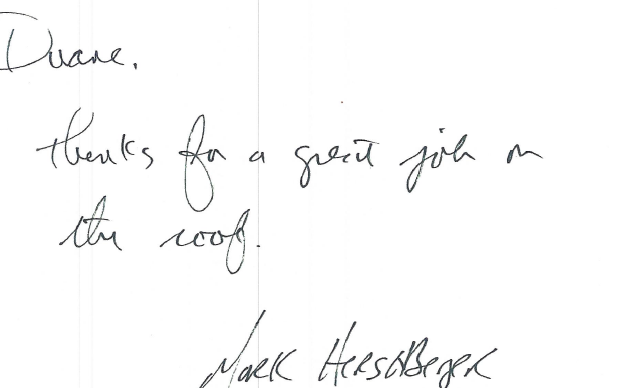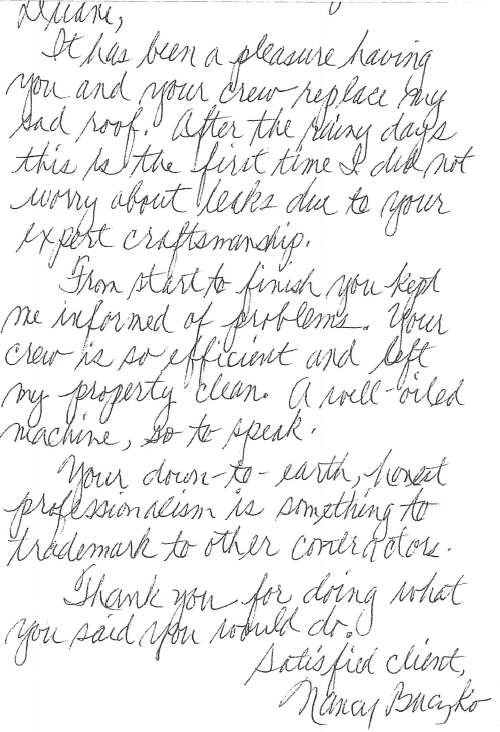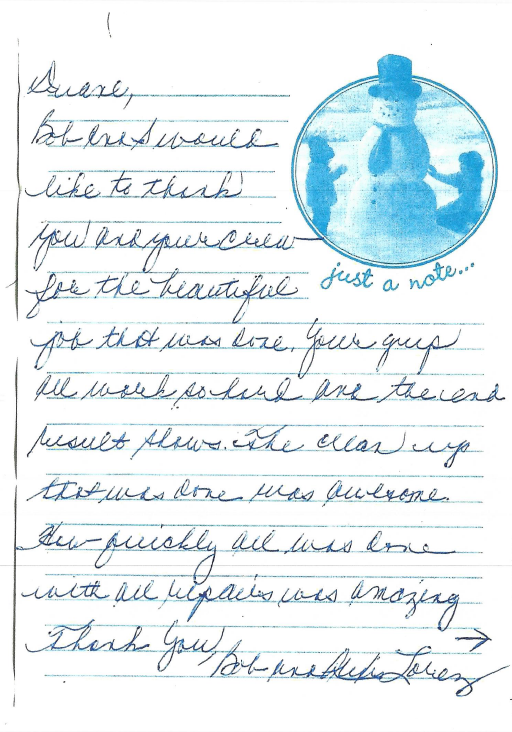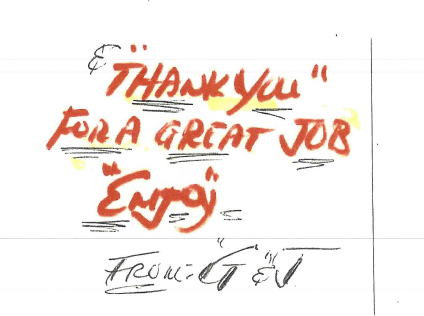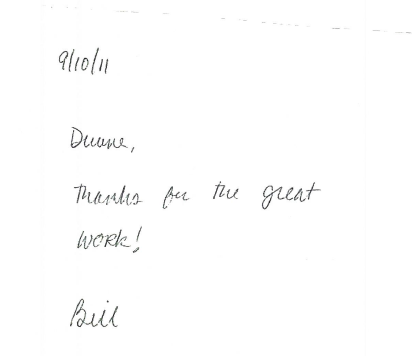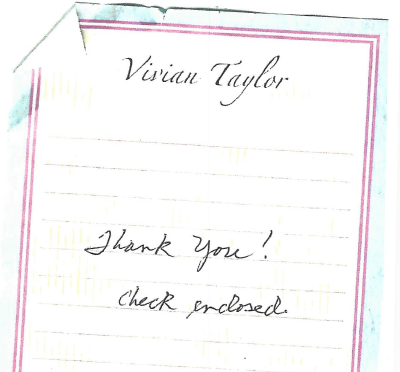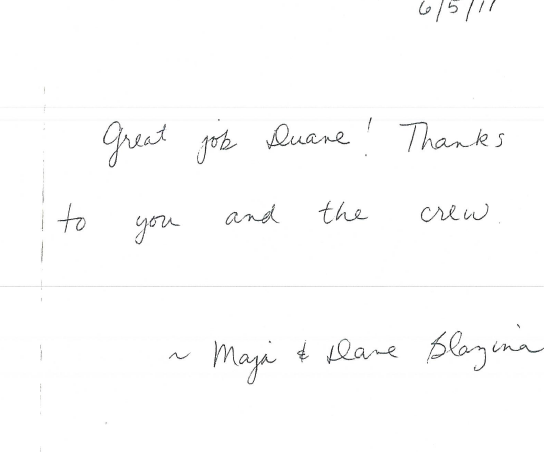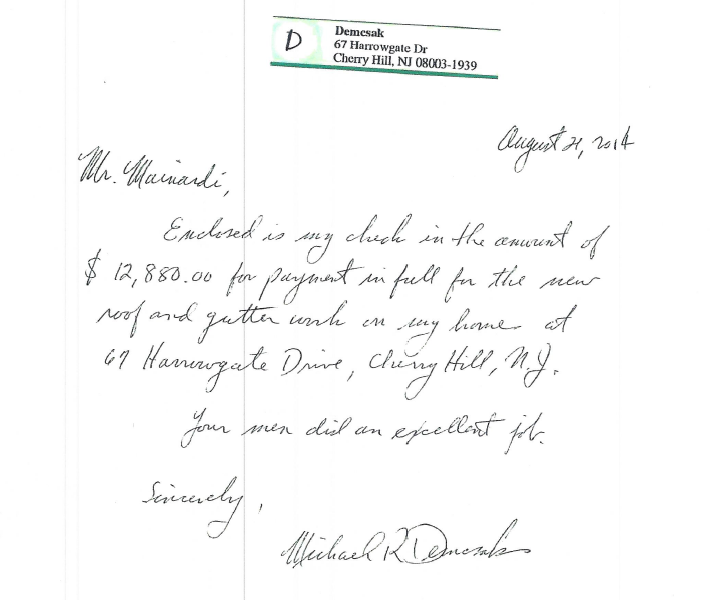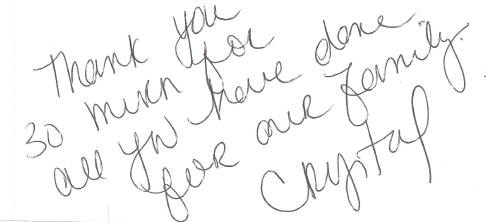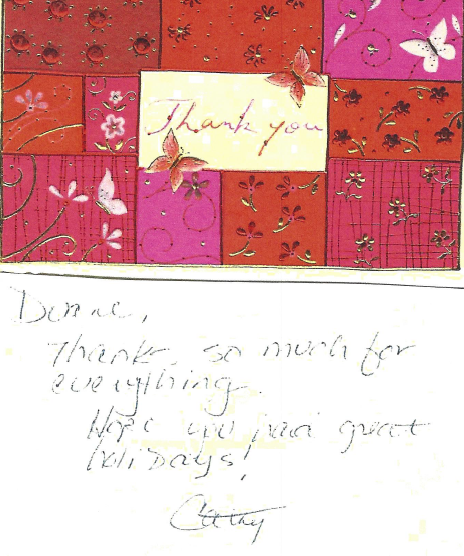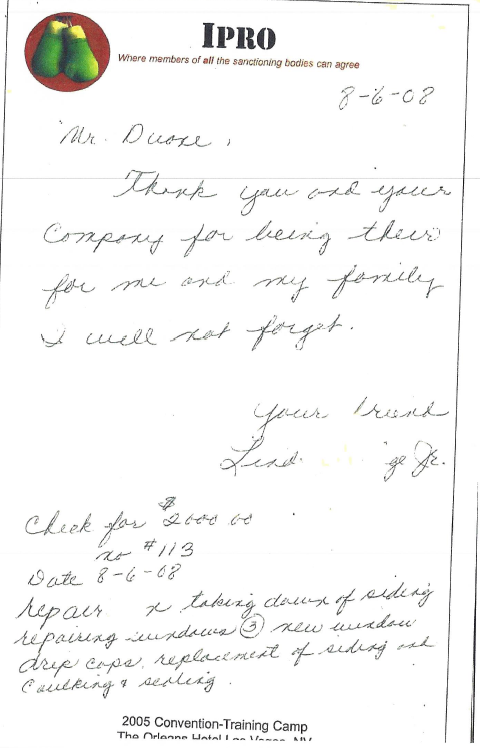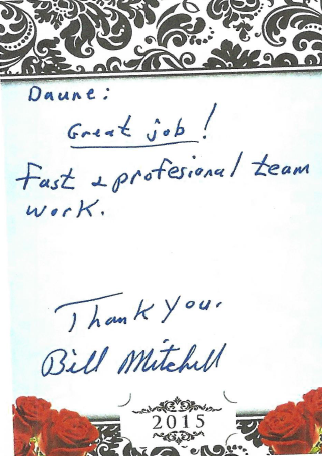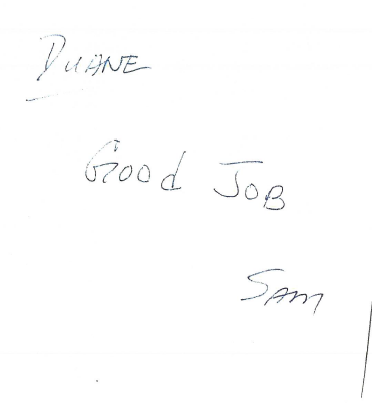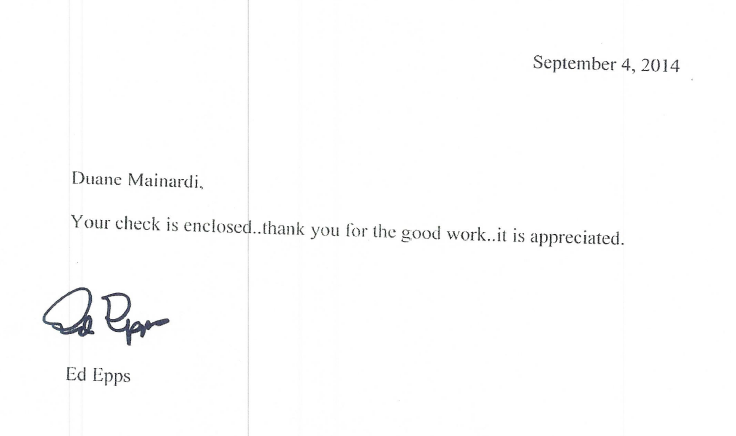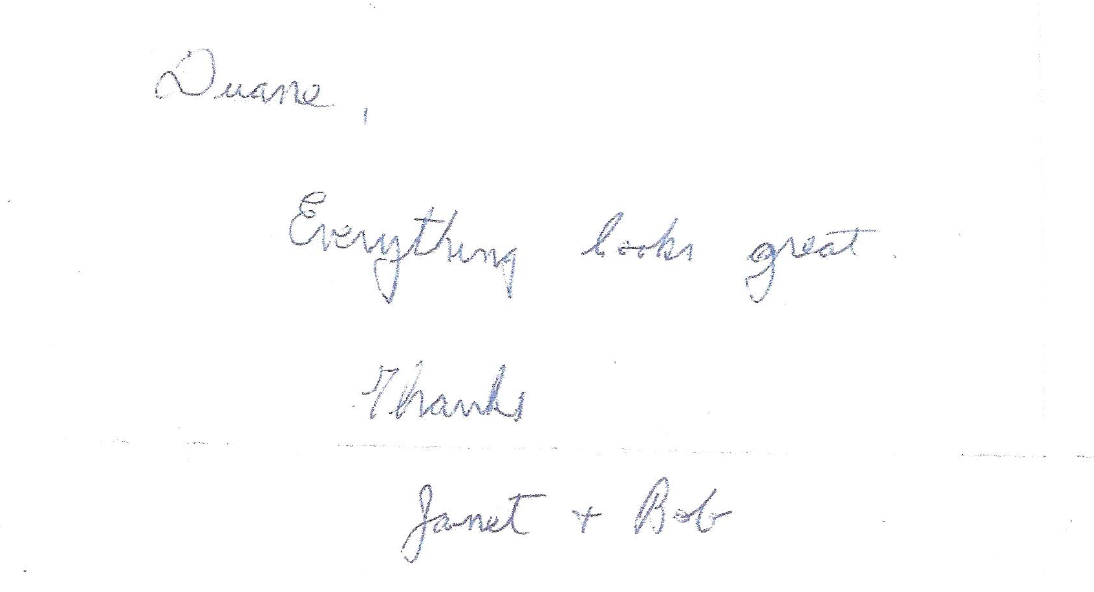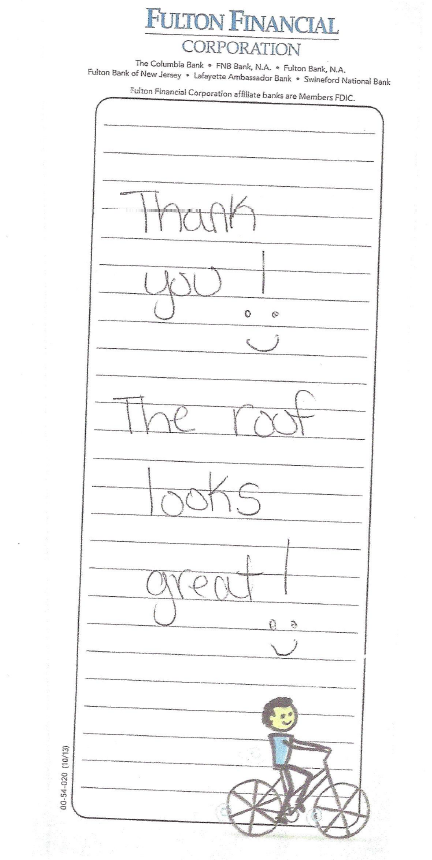 Schedule Now
SCHEDULE A FREE IN-HOME CONSULTATION
To schedule your complimentary in-home consultation, call 1-609-923-4548 or fill out our contact form by clicking 'Schedule Now.'
Schedule Now