R
e-roofing is a process you may not be acquainted with until it is time to replace the roof on your own home. And even then, there's a lot of information to absorb about products, procedures, and warranties in order to find a contractor that can provide you with services that best meet your individual roofing needs. Therefore, it's vital to know that you can rely on the roofing contractor you choose to give you good advice about those products and procedures that may be new to you. The key is to find the right roofing contractor for your job. Putting a new roof on your home is one of the biggest investments that you make as a homeowner, so it's important that it's done right and that you have someone standing behind the work for years to come.
GAF's stringent standards help give homeowners like you assurance that they are doing business with a reputable, competent company, not some "fly-by-nighter" that lacks true roofing expertise. In fact, only 3% percent of all roof contractors in America are able to claim GAF Master Elite™ status. A survey conducted of 28,000 homeowners who had hired a GAF Master Elite™ contractor revealed that a whopping 93 percent wouldn't hesitate to recommend the same contractor to others. It is exceedingly rare to find such a high level of customer satisfaction in the home improvement industry.
GAF Master Elite™ Contractors
One specific credential to be on the lookout for is GAF Master Elite™ certification, a title that's awarded by North America's largest manufacturer of commercial and residential roofing, GAF, to contractors who are able to demonstrate a commitment to being the very best in the industry.
To become a GAF factory-certified Master Elite™ roofing contractor, a company must:
Be licensed by their state or province to perform roofing work, if required
Have adequate insurance coverage
Demonstrate that it has a reputation in the local community for providing quality roofing services
Show a commitment to ongoing professional training, including staying abreast of new products and technologies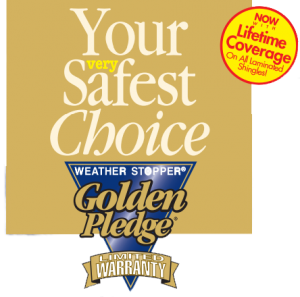 The Benefits of Choosing A Master Elite™ Contractor..
As a Master Elite Roofing contractor, we also get the privilege of offering the GAF Golden Pledge Limited Warranty to our customers. This unique warranty can only be offered by GAF Master Elite Roofing contractors. This warranty promises superior quality of your home's new roofing system. Your finished roofing system is even inspected by a GAF Factory Technician, providing you with an exclusive 40 point inspection. We have worked hard to earn the designation of a GAF Master Elite Roofer. You can have peace of mind knowing that when you hire Duane Mainardi Builders, you are making "the best and safest choice."
Compare the Golden Pledge Ltd. Warranty to A "Typical" Shingle Warranty..